Republican News
Republican News
WASHINGTON, D.C. – U.S. Sen. Lisa Murkowski (R-Alaska) today raised concerns with Federal Energy Regulatory Commission (FERC) nominee Norman Bay about the lack of transparency and due process at the enforcement office under his leadership.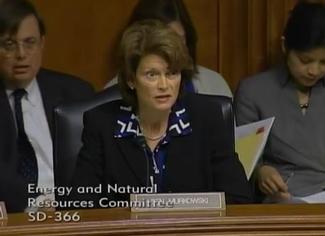 (Click for video of Sen. Murkowski's opening statement)
"It is critically important that FERC be viewed as unbiased and evenhanded," Murkowski said. "It is one thing to be a tough cop on the beat, it is quite another to make the rules up as one goes and deny those under investigation basic due-process rights, such as access to exculpatory evidence or even the ability to review prior testimony."
Murkowski referenced recent assertions in The Wall Street Journal and the Energy Law Journal that FERC enforcement office under Bay has taken a "we know it when we see it" approach to defining market manipulation and denied subjects of investigations due process. Critics of the enforcement office claim that its approach has harmed the competitive natural gas and electricity markets.
(Click for video fo Sen. Murkowski's comments)
Murkowski's comments came Tuesday at a hearing of the Senate Energy and Natural Resources Committee on the nominations of Bay and current chairwoman Cheryl LaFleur, both Democrats.
Murkowski praised LaFleur, who has served as chair of the commission since the beginning of the year, for her depth of knowledge on utility matters and her steady hand at the helm.
"While we don't always agree on policy, your steady leadership, combined with your 25 years of work in the energy field, demonstrates the experience, temperament and judgment we need at the commission," Murkowski told LaFleur.
Murkowski questioned why President Obama would try to "move down" the commission's lone woman to give the chairmanship to Bay.
Murkowski raised Bay's lack of familiarity on issues under FERC's jurisdiction; pointing out that Bay has no experience in the energy sector other than his five years at the commission's enforcement office. Murkowski said she was also concerned that Bay would likely have to recuse himself – if confirmed – from dozens of enforcement proceedings before FERC.
"I am troubled that not only do you have a steep learning curve on areas within FERC's foundational mission, but you'll also need to be recused for some time from matters where you do have expertise," Murkowski told Bay.
Murkowski is the top Republican on the Senate Energy and Natural Resources Committee. Video of Tuesday's hearing is available on the energy panel's website.
###