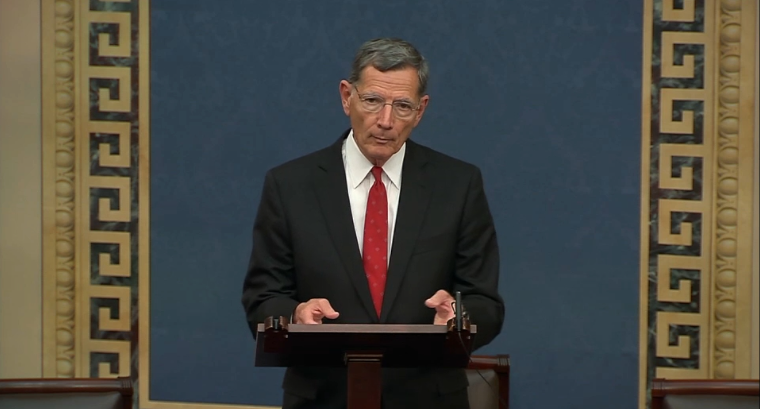 Click here to watch ranking member Barrasso's full remarks.
WASHINGTON, D.C. — Today, U.S. Senator John Barrasso (R-WY), ranking member of the Senate Committee on Energy and Natural Resources (ENR), spoke on the Senate floor ahead of the passage of his amendment (#999), the Nuclear Fuel Security Act, which was cosponsored by Senators Manchin (D-WV) and Risch (R-ID). The Senate overwhelmingly passed this bipartisan legislation by a vote of 96-3 for inclusion in the fiscal year 2024 National Defense Authorization Act.
Amendment #999 directs the Department of Energy (DOE) to prioritize activities to increase domestic production of low-enriched uranium (LEU) for existing reactors and accelerate efforts to ensure the availability of high-assay, low-enriched uranium (HALEU) for advanced reactors.
TerraPower plans to build its first Natrium Reactor in Kemmerer, Wyoming.
Ranking member Barrasso's remarks as delivered:
"Mr. President, for decades now, Russia has flooded America's uranium market.
"Russia has driven America's nuclear fuel suppliers out of business.
"Russia now supplies 24 percent of our enriched uranium imports.
"Russia is our third-largest supplier.
"We spend nearly $1 billion each year on Russian uranium. Russia uses these revenues to fund its invasion of Ukraine.
"Here in America we have the resources to fuel our own reactors.
"My amendment authorizes the Department of Energy to take the steps necessary to expand US nuclear fuel production.
"The Energy Committee passed this legislation by voice vote in May.
"The Senate passed this legislation by voice vote last December. It was included in last year's Senate defense bill.
"Now I'd like to thank Senator Manchin, Senator Risch, Senator Mark Warner, Senator Budd, Senator Coons for their effort and their support in cosponsorship on this critical issue.
"I urge you to support this bipartisan amendment.
"Thank you, Mr. President. I yield the floor."
Background Information:
On March 9, 2023, Barrasso spoke at a full committee hearing to examine the nuclear fuel cycle discussing Nuclear Fuel Security Act and how it will help prevent American reliance on Russian imports for uranium.
On February 15, 2023, Manchin, Barrasso, and Risch introduced the bipartisan Nuclear Fuel Security Act.
On December 22, 2022, the Manchin/Barrasso/Risch substitute amendment to the Fission for the Future Act which was directly derived from amendment #999 passed the Senate by voice vote.
On April 7, 2022, Barrasso introduced the Fueling Our Nuclear Future Act to accelerate the availability of domestically produced HALEU for advanced reactors. It directs DOE to partner with industry to establish a domestic HALEU enrichment capability. It also directs DOE to make HALEU available from their inventories to ensure advanced reactors have the fuel they need until U.S. commercial enrichment is available.