Trip Provides Opportunity to See Alaska, Meet with Residents in Multiple Communities
U.S. Sen. Lisa Murkowski, R-Alaska, last weekend hosted Sen. Joe Manchin, D-W.Va., in Alaska, marking his first visit to the state since becoming the Ranking Member of the Energy and Natural Resources Committee.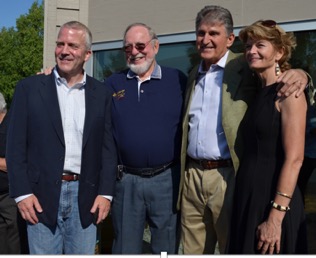 The delegation and Senator Manchin in Anchorage

Murkowski and Manchin traveled across Alaska, from the southwest part of the state to the North Slope and through the Interior, with an itinerary of meetings and site visits focused on energy, resource, and community issues.
"The best way to understand and grasp the uniqueness of Alaska is to see it firsthand," Murkowski said. "Senator Manchin has been an excellent partner on the Energy and Natural Resources Committee, and I thank him for making the long trip to learn more about our great state. As a result, I believe we will be able to work even more closely together to support Alaskans back in Washington, DC."
"I appreciate Senator Murkowski's hospitality in showing me her great state of Alaska. This trip offered me the unique opportunity to see the challenges facing Alaska up close. Like West Virginians, Alaskans are proud of their state and this was evident at every stop we made. This experience will color my work as Ranking Member of the Senate Energy and Natural Resources Committee as Chairman Murkowski and I continue to work towards solutions to the challenges facing our wonderful states," Manchin said.
"During this trip, we saw the proud culture, deep commitment to environmental stewardship, and resilient spirit of Alaskans," Murkowski said. "With wildfires, weather delays, and flight cancelations, we also experienced how challenging it can be to travel and live in Alaska. For the communities we were able to visit, we saw how the remoteness of our state, along with limited infrastructure, can affect the costs of basic goods, energy, and housing."
U.S. Sen. Dan Sullivan, and Rep. Don Young, both R-Alaska, joined Murkowski to welcome Manchin to Anchorage on Friday. While weather delays and mechanical issues prevented the members from attending a ribbon-cutting ceremony for the new bridge at Brooks Camp in Katmai National Park and Preserve on Saturday, committee staff were able to participate in Sunday's rescheduled event, as the Senators held fisheries-related meetings in King Salmon.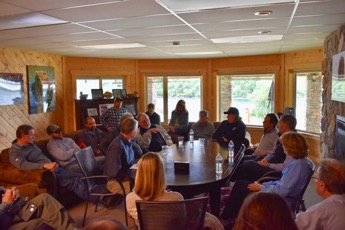 Meeting with locals in King Salmon

On Monday, Murkowski and Manchin visited the Alpine field and the CD-5 project on the western North Slope of Alaska, within the National Petroleum Reserve-Alaska, to see the significantly smaller footprint of modern energy development.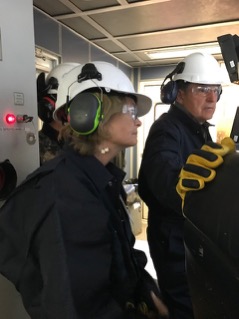 At CD-5 in the Alpine Field on the North Slope

They also visited the Iñupiat village of Kaktovik, the only community in the 1002 Area of the Arctic National Wildlife Refuge (ANWR), and the Gwich'in people of Arctic Village on the southern border of ANWR. Murkowski and Manchin discussed responsible development in the 1002 Area with tribal leaders in both communities.

With Kaktovik youth who are working on a village clean-up project
Meeting with Gwich'in leaders in Arctic Village

The final stop on the trip was at Chena Hot Springs outside of Fairbanks, which utilizes geothermal energy for community needs. The committee held a hearing on geothermal energy, which has significant potential in Alaska and other states, in June.

Touring a geothermal-powered greenhouse at Chena Hot Springs
Murkowski is chairman of the Senate Committee on Energy and Natural Resources, and Manchin is the ranking member.