MOU between Interior and USDA will ensure firefighters have access to potentially lifesaving technology
Watch video of the event here.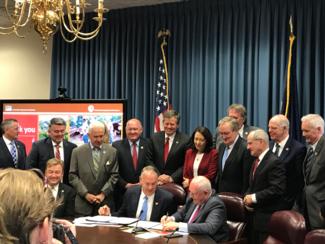 WASHINGTON, D.C. – Today, U.S. Senator Maria Cantwell, (D-Wash.) ranking member of the Senate Energy and Natural Resources Committee, joined U.S. Secretary of Agriculture Sonny Perdue and U.S. Secretary of the Interior Ryan Zinke at a briefing on the 2018 wildfire season forecast.
Currently, the Department of the Interior uses Unmanned Aerial Systems (UASs) to assist in wildfire management, damage assessments after fires, and even emergency rescue. These tools have proven to be extremely effective.
During the briefing, Senator Cantwell asked, "Is it possible for this fire season for the Department of Agriculture to take that same drone application process and expedite the use of drone technology on forest service lands as a tool for safety and identification of hotspots?"

Under questioning from Senator Cantwell, Secretary Purdue committed to signing a Memorandum of Understanding (MOU) with Interior to incorporate state of the art UAS technology into our firefighting for this season.
In January, Senator Cantwell introduced bipartisan legislation to encourage the use of this potentially life-saving technology while fighting deadly wildfires.
###