Energy Panel's Fourth Legislative Hearing Brings Total to 114 Bills Reviewed
Washington, D.C. – U.S. Sen. Lisa Murkowski, R-Alaska, today advanced the process of compiling broad and bipartisan energy legislation by holding the fourth and final legislative hearing to receive testimony on 42 proposals to promote accountability and reform in America's national energy policies. The bills under consideration included measures addressing energy exports, the federal permitting process, the Energy Department's national laboratories, electric grid reliability, manufacturing related to the energy sector, and federal agency programs.
Click here to view video
"Accountability for and reform of our energy policies do not always receive the attention that they deserve. Ensuring that federal agencies are operating effectively, efficiently, and with the highest degree of accountability is vital to the future of America's energy policy," Murkowski said. "I intend to make sure we modernize our energy policies, and we will continue working closely with all interested parties to be sure that we've done a good job."
Murkowski, chairman of the Senate Energy and Natural Resources Committee, questioned Department of Energy Under Secretary for Science and Energy Lynn Orr on the department's loan programs in states like Alaska and how best to implement them. She also pressed witnesses on the negative impact of duplicative federal regulations on increased energy production.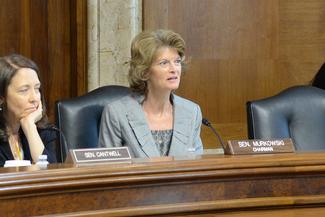 Click here to view video
"Right now, it is often hard for Alaska to participate in important loan programs that promote renewable energy in many rural areas of Alaska. Moving forward, it's important to ensure flexibility in these programs so Alaska can realize their benefits," Murkowski said.
When addressing the effects of duplicative federal regulations, Murkowski added, "In many cases, the states are doing an exemplary job of regulating energy production but the federal government consistently inserts itself with additional requirements. I am not quite sure how we got there but I want to work to change that. We need to get away from this lack of trust in what our states are doing."
At the close of the hearing, Murkowski highlighted the importance of the energy-water nexus and the need for more research and development. She also highlighted steps that can be taken to increase grid reliability as we "use our energy resources as assets."
Tuesday marked the fourth and final hearing on legislative proposals for possible consideration for the broad energy bill that Murkowski is assembling. That effort will pull together legislative proposals under four general titles – efficiency, infrastructure, supply, and accountability.
Video of the hearing and a full list of the energy infrastructure legislation under consideration are available on the Senate Energy and Natural Resources Committee's website.