January 22, 2015
05:35 PM
U.S. Sen. Lisa Murkowski, R-Alaska, chairman of the Senate Energy and Natural Resources Committee, today addressed the Senate to reiterate her support of the Keystone XL pipeline and put into perspective the more than 2,300 days the project has awaited a presidential decision on its cross-border permit application.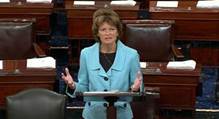 Click Here to View the Video
"Today marks the 2,316th day that has passed since the company seeking to build this pipeline first filed its permit application with the State Department. That's more than six years, more than 76 months, and more than 330 weeks," Murkowski said. "The President noted in his State of the Union this week that Keystone XL was just a 'single oil pipeline' and he's right. It is just a 'single oil pipeline.' We've got multiple pipelines that cross the border. We have hundreds of pipelines that cross throughout this country. So it really begs the question of how and why has it taken so long to get just one single pipeline action. Why does it take so long?"
Murkowski used real world examples of what can be accomplished in 2,300 days, pointing out one could travel back and forth to Mars and hike the Appalachian Trail multiple times. She also highlighted the upcoming Super Bowl between the New England Patriots and the Seattle Seahawks.
"Back in September of 2008, the Seahawks were about to start a season in which they would go just 4-12 – winning four games, losing 12. At that point, they were still a good team, we were still rooting for them, but they were also a different team," Murkowski said. "For starters, the Seahawks had a different head coach. Their current coach, Pete Carroll, was still at the University of Southern California, coaching the Trojans."
Murkowski pointed out that current Seahawk star running back Marshawn Lynch wasn't even on the team yet, and it would be another three years before football fans came to associate him with his love for Skittles. Keystone XL's application has now been pending another three years since then.
"Of course you can't forget Russell Wilson," Murkowski said. "A lot of Alaskans are rooting for him to get a second consecutive Super Bowl as the starting quarterback for the Seahawks. But back in September of 2008, he had played in just a handful of college games. At that time he was a redshirt freshman at North Carolina State."
Murkowski concluded by noting that a lot can happen in 2,300 days – but that some things should probably happen quicker than others.
"It should probably take the federal government less time to approve an important infrastructure project – what the President himself has called a just 'single oil pipeline' – than it takes to build an NFL championship team," Murkowski said.
###