Field hearing highlights Toledo Bend's potential to create tens of thousands of high-paying industrial, commercial and agricultural jobs in Louisiana during next 50 years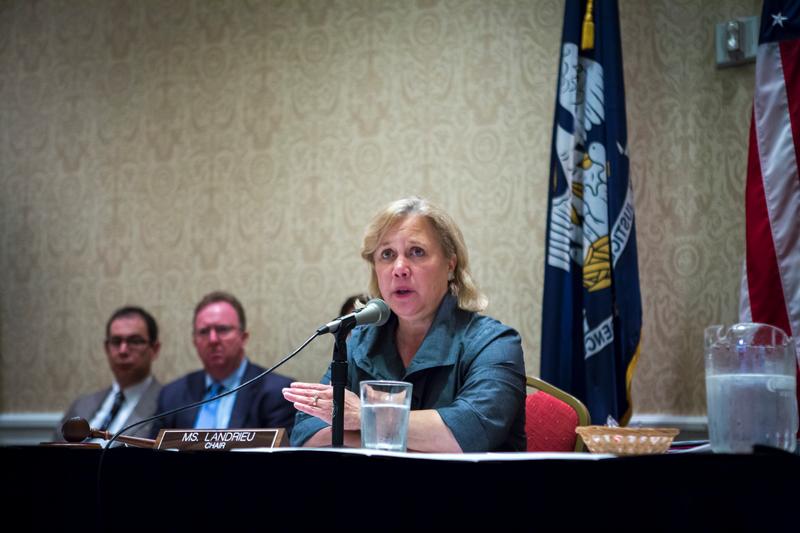 MANY, LOUISIANA - U.S. Senator Mary L. Landrieu, D-La., the chair of the Senate Energy and Natural Resources Committee, emphasized the job-creation potential of the Toledo Hydroelectric Project during a May 17 Committee field hearing at the Cypress Bend Conference Center.
"Toledo Bend has driven significant of economic development in this part of Louisiana since 1963," Sen. Landrieu said. "We must look ahead to the next 50 years and how we can responsibly leverage the area's hydro-energy assets and obvious and abundant natural resources to create more high-paying jobs and spur commerce and recreation. Toledo Bend has huge economic potential, and I am committed to getting the resources we need to unleash it."
Sen. Landrieu also expressed support for Toledo Bend in its effort to receive a new 50-year license from the Federal Energy Regulatory Commission (FERC). On February 5, Sen. Landrieu wrote a letter to FERC calling on them to issue Toledo Bend a new 50-year license, the longest term possible under Federal law.
"The relicensing process takes far too long and is too costly. Toledo Bend is currently waiting for a new license and I have been pushing FERC to get this done," Landrieu said. "Getting a 50-year license will save the project a lot of money because it would help spread costs over a longer period of time. I expect that FERC will issue a new 50-year license for Toledo Bend this summer as I requested. And frankly, if they don't, I will pass legislation to mandate a 50-year license for Toledo Bend."
A panel of local leaders provided testimony before the committee, including State Sen. Gerald Long, chair of the Natural Resources Committee of the Louisiana State Senate, Mr. Jim Pratt, Executive Director of the Sabine River Authority of Louisiana, Mrs. Linda Curtis-Sparks, Director of the Sabine Parish Tourism Commission, Mayor Ken Freeman of Many, and Mr. William Ruffin, President of the Sabine Parish Police Jury.
Sen. Long noted that creative thinking will allow Toledo Bend to reach its full economic potential.
"But if you begin to think outside the box about what Toledo Bend can be, it can be an economic engine. We already provide for about 21 industries their needs as it pertains to a quality quantity of water," State Sen. Gerald Long said. "We are one of only six states that is energy independent. The next great economic engine that will drive Louisiana will be associated directly with how much water we have and how we use it."
Mayor Freeman and Ms. Curtis-Sparks argued that increased investment in infrastructure, including roads and sewer systems, is necessary for Toledo Bend to reach its full potential.
"Those of us who were here from the beginning know that Toledo Bend is not just a Sportsman's Paradise, we know that it is not just a big old hole in the ground with a lot of water in it. We know that it is the engine that drives our economy. Yet, this engine cannot roar to its fullest potential until we accomplish one more goal, and that is transportation," Mayor Freeman said. "We here today are asking you to continue to support the Toledo Bend project and help us accomplish these goals so that this area can reach its fullest potential and in doing so, build a stronger north Louisiana for generations to come."
"The infrastructure of Toledo bend still holds back the development of Toledo Bend. We can't get a Holiday Inn Express on this lake because we don't have water for fire protection, we don't have sewers," Ms. Curtis-Sparks said. "Businesses that want to come into this area have to put in sewer and water and you're just not going to get that."
Several of the witnesses also praised Sen. Landrieu for her leadership and work to realize the economic benefits of Toledo Bend as well as for holding the hearing in Sabine Parrish.
"We are so very pleased to have you here as the Chair of the Senate Energy Committee, a position that is so vitally important to the state and the citizens of Louisiana and of this entire parish," Jury President Ruffin said. "Toledo Bend has been import for [Sabine] Parish and we certainly appreciate your support."
"We simply know that the needs of our community and the needs of our state transcend politics, and I want to publicly say how appreciative I am that Senator Landrieu has brought government to the people," Sen. Long said.