WASHINGTON, D.C. – U.S. Sen. Lisa Murkowski, R-Alaska, today testified before the House Energy and Commerce Subcommittee on Energy and Power. The hearing, titled "American Energy Security and Innovation: An Assessment of Private-Sector Successes and Opportunities in Energy Efficient Technologies," looked at energy efficiency's contribution to American energy security and innovation.
Murkowski's testimony focused on the federal government's potential role in advancing greater energy efficiency, including the policies and recommendations laid out in her recently-released Energy 20/20 blueprint.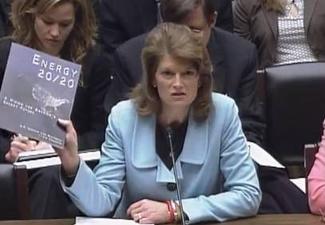 (click for full video of testimony)
Murkowski said she plans to call on the Government Accountability Office to review the existing efficiency programs at the Energy Department to see whether there are overlapping authorities and duplicative programs that can be combined or eliminated to improve the efficient operation of the government.
"Given the constraints on federal finances and the failure of mandates to deliver the promised results, those of us in the federal government should also put our own house in order," Murkowski said Tuesday. "As a start, I will soon be calling upon the Government Accountability Office to review current funding and past performance of residential, commercial, and industrial energy efficiency programs at DOE – and then propose new authorization levels based on this review."
Murkowski, the ranking Republican on the Senate Energy and Natural Resources Committee, has long been an advocate for policies that improve energy security, reduce consumer costs and advance energy efficiency.
###
For further information, please contact Robert Dillon at 202.224.6977 or Robert_dillon@energy.senate.gov or Megan Moskowitz at 202.224.7875 or Megan_Moskowitz@energy.senate.gov.
Visit our website at http://www.energy.senate.gov/public/