WASHINGTON, D.C. – U.S. Sen. Lisa Murkowski (R-Alaska) today pressed two Interior nominees on why the Environmental Protection Agency (EPA) was trying to duplicate financial assurance requirements on hardrock mining operations that Interior and other agencies already have in place.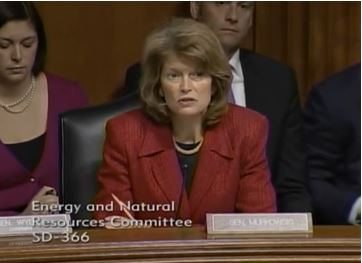 (Click picture for video.)
At Tuesday's hearing of the Senate Energy and Natural Resources Committee, Murkowski questioned Janice Schneider, nominated to be assistant secretary of land and minerals management, and Neil Kornze, nominated to lead the Bureau of Land Management, on whether they supported the EPA's decision to get involved in financial assurance requirements, including bonds, for hardrock mines – and asked what they would do, if confirmed, to defend their agencies' statutory role in the process.
"To me, I think this is an overreach by the EPA," Murkowski said. "You have the BLM, the Forest Service, and every relevant state that already have programs in place. Based on correspondence that I have had with DOI, as well as the Forest Service, these programs appear to be working at the federal level. So I'm not certain why the EPA needs to add additional requirements."
The Bureau of Land Management (BLM) and the U.S. Forest Service have required financial assurances for hardrock mines on federal lands since 1981 and 1974, respectively. States are responsible for maintaining control over financial assurance programs for mining activities on their lands.
In 2009, the EPA initiated a rulemaking under the Comprehensive Environmental Response, Compensation and Liability Act (CERCLA) to establish financial assurance requirements for hardrock mines. EPA officials claim their involvement will ensure that taxpayers do not pay for environmental cleanups, but existing state and federal laws and regulations are already in place.
In 2011, in response to a letter from Murkowski, BLM and the Forest Service acknowledged that they do have adequate financial assurance requirements in place to protect taxpayers.
Murkowski also questioned nominees Schneider and Kornze on their support for efforts to revitalize critical minerals production in the United States. In October, Murkowski introduced the bipartisan Critical Minerals Policy Act (S.1600). Video of Murkowski questioning Schneider and Kornze on critical minerals is available here.
###