Republican News
Republican News
U.S. Sen. Lisa Murkowski, R-Alaska, today began the Senate Energy and Natural Resources Committee's markup of the broad, bipartisan Energy Policy Modernization Act of 2015 with discussion on almost a third of the 94 amendments filed to the bill.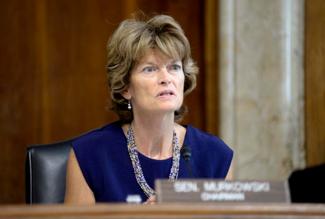 Click here to play video
"We have worked in good faith for months to find common ground on this bipartisan bill," Murkowski said. "Today we began the final stretch of our work in committee, and I am pleased that we were able to process over two dozen amendments in such a cordial, productive manner."
Murkowski, chairman of the energy panel, opened Tuesday's business meeting with a 17-5 vote approving the nomination of Jonathan Elkind to be Assistant Secretary for International Affairs at the Department of Energy.
The committee then considered amendments to the Energy Policy Modernization Act, including a managers' package covering 10 amendments, which was approved by voice vote. The committee also approved an amendment regarding vehicle innovation from Sen. Lamar Alexander, R-Tenn. and Sen. Debbie Stabenow, D-Mich., by a 20-to-2 vote. Amendments from Sens. Al Franken, D-Minn., and John Barrasso, R-Wyo., did not pass the committee.
Committee members worked through a total of 25 of the 94 amendments filed to the bill before Murkowski recessed the business meeting. The committee will resume consideration of the agenda at 10 a.m. tomorrow, Wednesday, July 29.