Republican News
Republican News
WASHINGTON, D.C. – U.S. Sen. Lisa Murkowski, R-Alaska, today criticized the Obama administration's restriction of access to federally managed lands and waters for responsible economic development. At an oversight hearing before the Senate Energy and Natural Resources Committee, Murkowski emphasized the importance of using our public resources to create jobs and generate badly needed revenue and economic activity:
(Click for video of Sen. Murkowski's statement.)
"I have one take-home message: The only way that American resources will generate revenue and create jobs is if American workers and businesses are allowed to access those resources.
"Back in June, the Energy Information Administration (EIA) released a report showing what has happened on federal and Indian lands over the last 10 fiscal years:
Coal production is down 8 percent;
Crude oil and lease condensate production are down 11 percent; and
Natural gas production is down 43 percent.
"Overall, fossil fuel production from federal and Indian lands has declined 21 percent over the past decade.
"When we talk about generating revenue and creating jobs, we're really talking about increasing production; and when we talk about increasing production, we're really talking about increasing access.
"So let's talk about access. I know people like to point out that most shale resources appear to be on state and private lands, and that is why production from state and private lands is so high. But that is not the case with conventional resources.
"Consider the Arctic Coastal Plain, within the non-wilderness portion of ANWR. According to the U.S. Geological Survey, there are between 5.7 billion and 16 billion barrels of oil located there. If you take the mean estimate – 10.3 billion – at a price of $100 per barrel, then the taxes and royalties generated from that production would amount to some $153 billion over 30 years. That's not my math; that's according to the Congressional Research Service.
"Consider the Alaska Offshore region, which the Bureau of Ocean Energy Management estimates contains some 26 billion barrels of oil and condensate, plus another 132 trillion cubic feet of natural gas.
"Every American has heard of the Gulf of Mexico and many have now heard of the Bakken and Eagle Ford. I live and breathe for the day when every American will have heard of the Chukchi, the Beaufort, Cook Inlet, and other resource rich areas in Alaska.
"Some say I talk about Alaska too much. They say the boom is in the Lower 48 and my state has missed out – missed out on those revenues, missed out on those jobs. But look what's going on around the world – Iraq ablaze, Syria in turmoil, Russia and Ukraine and Europe on the brink. With energy security on everybody's mind; and with policymakers here in Washington debating how, not whether, to use our energy resources as an instrument of national advantage – my answer is: why not talk about Alaska?
"Resources are more than just energy, of course. Certainly, the mining industry provides thousands and thousands of good jobs across the country, as it provides the building blocks for nearly every other part of our economy.
"The federal government also made a promise – over a century ago – to actively manage our national forests and pay 25 percent of the receipts to counties, parishes, and boroughs containing National Forest land. It was only fair that because the federal government doesn't pay local taxes, it would share revenue generated from these forests to help fund essential services such as schools and roads. These payments are often called 'national forest receipts' or '25-percent payments.' In 1937, the Bureau of Land Management also began sharing commercial receipts generated on Oregon and California Railroad Grant lands (O&C) in Oregon with the 18 O&C counties.
"The primary source of commercial receipts for these revenue-sharing programs is timber receipts. And I can tell you, for a while we cut a lot of timber and generated a lot of money. It created really good jobs in our rural communities that you could raise a family on. At the peak in 1989, the Forest Service shared approximately $362 million with counties, and BLM O&C payments totaled about $110 million.
"That all changed abruptly, and receipts generated have declined dramatically since. One need only look at where we are today. In fiscal year 2013, if revenue sharing had been used to make payments rather than Secure Rural Schools, the estimated 25-percent payment would have been just $58 million. That's $58 million for the entire Forest Service.
"In my home state of Alaska, on the Tongass, the devastation could not be more apparent. In 1990, the Tongass supported a vibrant timber industry with more than 1,000 good middle-income jobs. We harvested more than 400 million board feet and generated more than $47 million – which was shared with communities across Southeast Alaska. Do you know how much we are earning these days? In FY 2013, we barely harvested 35 million board feet. The receipts generated from that paltry harvest were just about $1 million. That is a rounding error compared to where we used to be. And those good jobs? We now have a third of the jobs – roughly 300 – than we counted on in the 1990s.
"What happened? Federal environmental policy, regulations, the 2001 Clinton Roadless Rule, the listing of the northern spotted owl and the ensuing litigation – halted timber harvesting on our national forests, crippling the timber industry. It turned many of our forests into tinderboxes and devastated the economies of rural communities across the West.
"These days we burn more timber than we cut. And we pay counties Secure Rural Schools money to look the other way. This is a travesty. We have taken away the economic ability of these communities to survive on their own and made them dependent on federal assistance.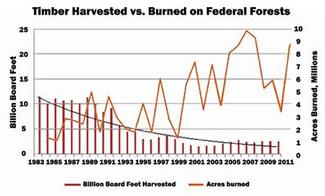 "It is not the communities' fault – which is why I have supported the Secure Rural School extensions and reauthorizations – but the status quo is not sustainable, either. SRS was never meant to be a permanent entitlement. It was supposed to be a temporary safety net. It's time we return to actively managing our national forests and put our timber communities back to work.
"I often hear that we need to look at recreation and tourism as the economic engine of the future. Those activities are important. No state is prouder of its recreation industry than Alaska. But recreation and tourism are not adequate substitutes for responsible resource development on federal lands. In Alaska, for more than 50 years, we've shown that resource development, recreation, and tourism can coexist.
"We need to actively manage our federal lands for multiple uses. If not, we should divest the federal government of those lands and let the states or counties manage them. Some will try paint this clear choice as extreme, but we need to address head-on the fact that federally-owned land has a profound impact on the communities that depend on them for survival."
###