Republican News
Republican News
"Open Unless Closed" Standard Will Increase Access to Federal Lands in
Alaska, Lower 48
Chairman Lisa Murkowski, R-Alaska, today led the Senate Energy and Natural Resources Committee's approval of S. 556, the Sportsmen's Act of 2015, which she introduced earlier this year. The bill would establish a new national policy for federal agencies to expand and enhance sportsmen's opportunities and make "open unless closed" the standard for access to federal lands throughout the United States.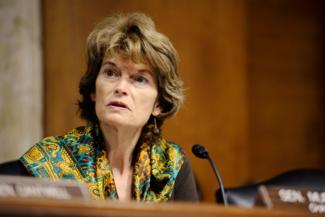 "My Sportsmen's Act declares that fishermen, hunters, recreational shooters and other outdoor enthusiasts deserve greater access to federal land, and it instructs federal agencies to facilitate the expansion of that access," Murkowski said. "Our public lands should be open unless closed, not closed until opened or closed by bureaucratic inertia. This is a big step forward for an important bill that meets the needs and priorities of sportsmen in Alaska and all across the country."
Murkowski crafted a strengthened version of her Sportsmen's Act with Congressional Sportsmen's Caucus Chair Jim Risch (R-ID), Sen. Martin Heinrich (D-NM), other committee and caucus members, and dozens of outside stakeholders.
"I thank my colleagues for their contributions to this bill and their strong support of it today," Murkowski said. "Given the significant bipartisan backing for sportsmen's issues, I am hopeful this will be the Congress we send this bill to the president's desk – and finally do right by all who love the great outdoors. I look forward to the other committees finishing their work on related provisions so the Senate can consider a full Sportsmen's package on the Floor."
The Sportsmen's Act of 2015, introduced in February by Murkowski, contains the provisions of her broader Bipartisan Sportsmen's Act (S. 405) that are jurisdictional to the Energy and Natural Resources Committee. Among other provisions, the bill reported today would:
Provide a clear congressional declaration of policy for all departments and agencies to facilitate the expansion and enhancement of hunting, fishing, and recreational shooting opportunities on federal lands in accordance with their missions;
Establish a national "open unless closed" standard for federal lands, while ensuring the public has notice of and can comment on decisions regarding temporary and permanent closures;
Require agency justifications for proposed closures, and limit temporary closures to no more than 180 days (subject to renewal only after a new notice and comment period);
Prohibit the National Park Service from restricting the lawful transportation of bows and crossbows that remain in a vehicle while an individual is in a national park unit; and
Facilitate commercial filming on public lands by requiring agencies to finalize a single joint land-use fee schedule within 180 days, exempting small crews of three or less from commercial filming fees, exempting small businesses from having to acquire additional permits and pay additional fees for incidental filming, and ensuring that first amendment rights to free speech and newsgathering are protected on public lands.
The Sportsman's Act also includes the text of Sen. Heinrich's "Hunt Unrestricted on National Treasures" (HUNT) Act. The provision would direct all relevant agencies to improve access to high-priority federal lands where hunting, fishing, and outdoor recreation are permitted.
Finally, the Sportsmen's Act reported today would permanently reauthorize the Land and Water Conservation Fund (LWCF) and the Historic Preservation Fund, while enacting needed reforms, including ensuring that at least 40 percent of LWCF funds are directed to state-based programs and sets guidelines for any new federal land acquisition. It would also require the greater of 1.5 percent or $10 million in annual LWCF funding be made available for improving access for sportsmen and women to existing federal lands, and would establish a new National Park Service Maintenance and Revitalization Conservation Fund to address the high-priority deferred maintenance needs of the National Park Service.
"With the approval of this legislation, we are one step closer to ensuring that our grandchildren have the same opportunities to hunt and fish as we did growing up," Murkowski said.
The previous congressional authorization for LWCF, which has roughly $20 billion in remaining unspent balances, expired at the end of September. The LWCF provision added to the Sportsman's Act features the same language as the broad, bipartisan energy bill that the committee reported by a vote of 18-4 at the end of July.