Republican News
Republican News
Jan
15
2014
Senator Opposes Any Pause in the Pace of LNG Export Application Reviews
WASHINGTON, D.C. – U.S. Sen. Lisa Murkowski (R-Alaska) today spoke on the Senate floor about the economic and geopolitical opportunities that increased energy exports present for the United States.
"The energy resurgence has fueled a beneficial expansion of the U.S. energy trade. The evidence is clear that exports can help facilitate enhanced production by opening up U.S. supply to global markets," Murkowski said. "Trade is creating jobs, increasing supply, and enhancing our nation's security. Competition and efficiency are strengths of the American economic system, not defects."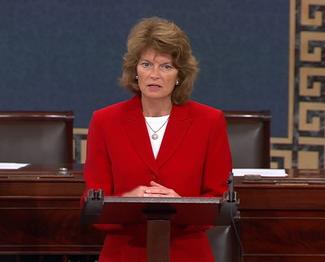 (Click for video of Sen. Murkowski's floor speech.)
The United States is both producing and exporting more energy than ever. Net energy imports are at a 20-year low and projected to fall below 5 percent of total consumption by 2025. Domestic production of crude oil is at its highest point in the past 20 years and refiners are exporting record amounts of gasoline and other refined products. Murkowski said increasing U.S. exports of all energy resources, including oil, coal, natural gas, and renewables, would bring net benefits to the nation.
"Trade and consumption will occur with or without us, and the only question is whether we enhance or demote our global position. To the extent that American-made energy can displace other less-clean sources, then the global environment will benefit from enhanced U.S. trade. People come first, however, and the nation's opportunity to help alleviate energy poverty must not be missed," Murkowski said. "We should send a powerful signal to the world that the U.S. is ready to reassert its role as a leader on energy, the environment, and trade. That, to me, is a signal worth sending. And so this, to me, is a debate worth having – right here in the U.S. Senate, in this new year."
Murkowski called for expediting applications to export natural gas and declared her opposition to any sort of "pause" in the pace of approvals. She also reiterated her support for lifting the ban on crude oil exports.
"Our allies overseas and American workers here at home have waited long enough," Murkowski said.
Murkowski is the top Republican on the Senate Energy and Natural Resources Committee. The white paper on energy exports that she released last week is available on the energy panel's website. Supporting analysis on energy exports by the nonpartisan Congressional Research Service is available here.
###